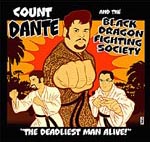 ---
Count Dante and the Black Dragon Fighting Society
The Deadliest Man Alive -GZ 2004


15 of the deadliest tunes that'll knock you out for the count and change your inner being. You can buy CDs, LPs, 7"s, Cassettes and Eight-Tracks from other SO CALLED "College" or "Indie Label" bands, but those releases will only teach you how to wear lots of black, obtain piercings, purchase hair products, and feel sorry for yourself!


YOU CAN STOP THE CYCLE OF DEPENDENCE!


Only "The Deadliest Man Alive" from COUNT DANTE AND THE BLACK DRAGON FIGHTING SOCIETY delivers 15 Tracks of SCORCHING SUCCESS SEMINAR KUNG FU ROCK that will show you the DEADLY GRAPPLING TECHNIQUES that can make you A SUCCESS!!!